Everyone knows and agrees a Father is always a child's first hero.
No matter who is in front of you, if your father is beside you, then you would feel that all the damn thing is falling on your feet.
A Father is always a great pillar of strength and a beacon in a child's life. More than to a son, they play a crucial role in daughters life.
Tamil Cinema has a lot of movie dads. Be it a Sathyadev, Krishna or a Vijay Kumar, everyone excels as the best dad that every child dream of, especially a Girl child.
Here are some of the best Father daughter songs collection from Tamil movies that every daughter will relish.
Collection of Best Father Daughter Tamil Songs
15. Kadha Solla Poren Song From Deiva Thirumagal
An innocent dad who tries to cook up a story for his daughter's school competition.
Ofcourse, Bed time stories are always the best times in every child's life.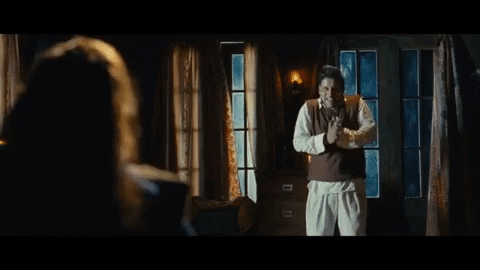 Movie: Dheivathirumagal
Year: 2011
Artist: Vikram, Shringa
Lyricist: Na. Muthukumar
14. Chinna Maharani Song From Priyasakhi
The movie is about a young couple who fall in love.
Unsure about the burdens of pregnancy, the dad's love for his daughter moves the heart of the wife.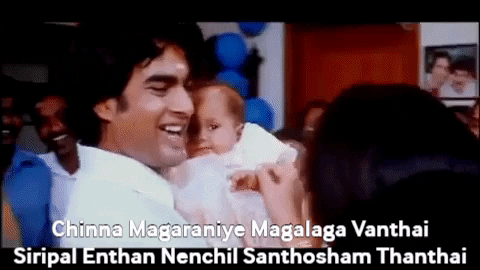 Movie: Priyasakhi
Year: 2005
Artist: Hariharan
Lyricist: Pa. Vijay
13. Bommukutty Ammavukku Song
A heartfelt song by a father who has adopted a girl.
This father daughter song shows the care of a dad to the daughter is beyond blood relations.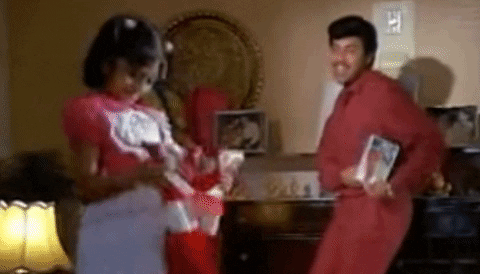 Movie: En Bommukutty Ammavukku
Year: 1988
Lyricist: Vaali
12. Poopole Un Punnagaiyil Song From Kavari Maan
The love a father has for his daughter is beyond all relation even if things are not fine between the father and the mother.
This song between the father and his daughter states that perfectly.
Even a strained marriage does not stop a father-daughter bond and rightly affirms why people tell that everything will be okay when couples have a kid if there is trouble in the marriage.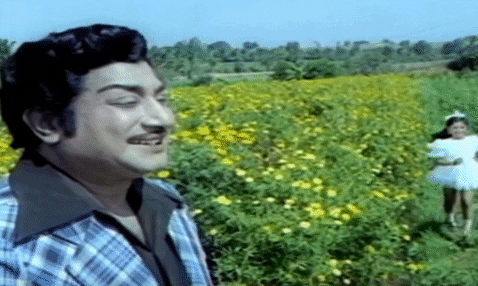 Movie: Kavari Maan
Year: 1979
Artist: S.P.Bala
11. Vaayadi Petha Pulla From Kanaa
An ambitious father and daughter combo goes in winning the dream of each other.
Vaayadi Petha Pulla song gives a glimpse of real father-daughter feel as the song itself was sung by a real celebrity Sivakarthikeyan with his daughter. It also turned as a huge hit even before the release of the movie.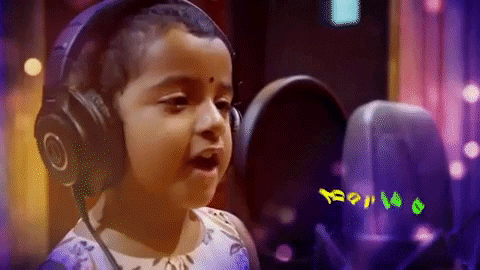 Movie: Kanaa
Year: 2018
Artist: Sivakarthikeyan and Aaradhana Sivakarthikeyan
10. Aariro Song From Deiva Thirumagal
It is a touching portrayal of a dad who does not have the maturity to take care of his daughter, but his love wins the hearts of everyone.
The way he takes care of the young child in his own way is beautiful showing that being a father is not about maturity but the unconditional love and care for the child.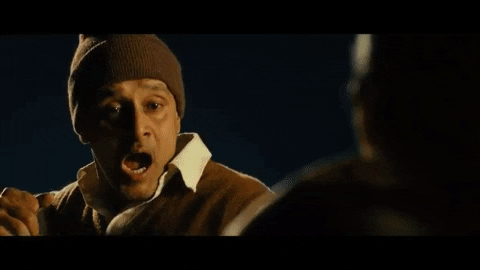 Movie: Deivathirumagal
Year: 2011
Artist: Haricharan
Lyricist: Na Muthukumar
9. Unakkenna Venum Sollu Father Daughter Song From Yennai Arindhaal
Even as the year grows by, the love of a father for his daughter does not change as the song describes how a father who has lost all his youth, reconciles and is happy when he sees his daughter.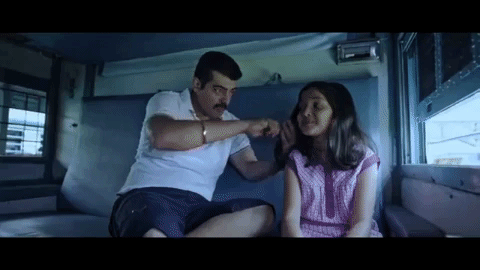 Movie: Yennai Arindhal
Year: 2015
Artist: Benny Dayal
Lyricist: Thamarai
You may also like:
8. Enthan Vazhkaiyin Artham Song From Chinna Kannamma
The movie is a story of how a baby daughter wants to live with her dad who brought her up instead of her real parents.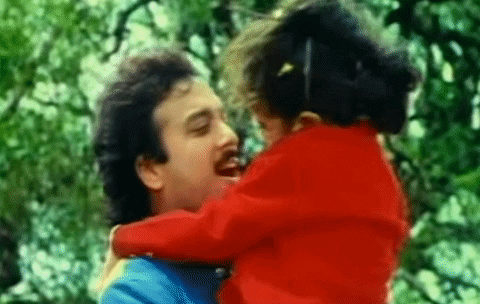 Movie: Chinna Kannamma
Year: 1993
Artist: Mano, Janaki
Lyricist: Panchu Arunachalam
7. Chinna Chinna Poovey Song From The Movie Sankar Guru
The song is full of lovely verses of a person who attempts to find the real father of a small girl.
The bond is not about blood relation but something more than that.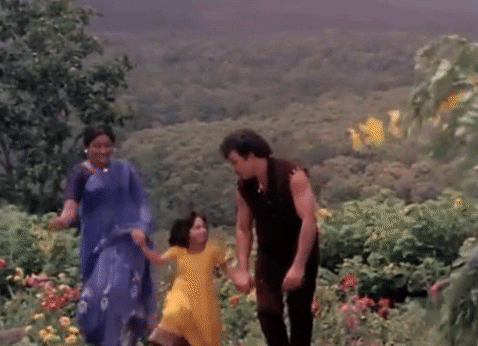 Movie: Sankar Guru
Year: 1987
Artist: KJ Yesudas
Lyricist: Vairamuthu
6. Oru Dheivam Thandha Poove
Another story of foster parents showing infinite love for the adopted daughter, the song gives a beautiful feeling of the relation between a father and a daughter.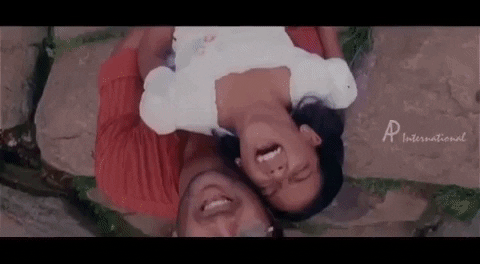 Movie: Kannathil Muthamittal
Year: 2002
Artist: Chinmayi
Lyricist: Vaairamuthu
5. Kannana Kanne from Viswasam
Another heart-melting song from Ajith as a father in the movie Viswasam. The Sid Sriram's voice in Imman's composition is an ultimate treat to all fathers and daughters.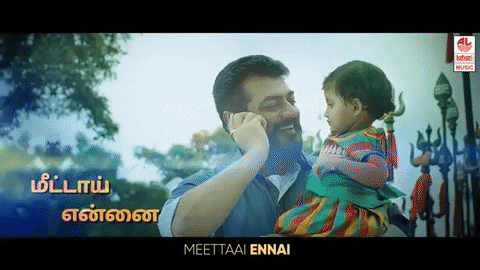 Movie: Viswasam
Year: 2019
Artist: Sid Sriram
Lyricist: Thamarai
4. Eena Meena Teeka – Theri
The movie is about a father who tries to lead a peaceful life with his daughter after her mother's death.
The song along with the beautiful expressions of the daughter brings happiness.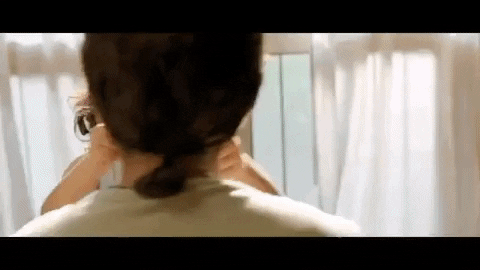 Movie: Theri
Year: 2016
Artist: GV Prakash
Lyricist: Pa. Vijay
Also, read:
3. Kukkotti Kunnatti Father Daughter Song From Aruvi
The song describes the beautiful relationship between a father and a daughter in their young years.
As their relationship is estranged now, a flashback reel of the song brings tears to the eyes of the viewers.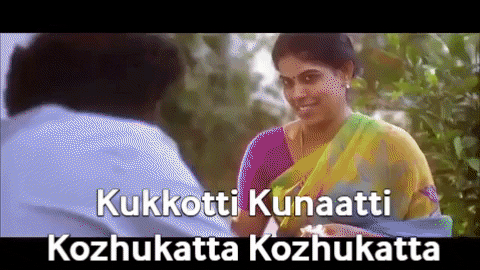 Movie: Aruvi
Year: 2017
Artist: Bindhu Malini
Lyricist: Kutty Revathi
2. Vaa Vaa En Devadai Song From Abhiyum Naanum
The movie captures the life of the family of a father who is extremely caring and has great love for his only daughter.
The movie brings out the difficulty of every father in digesting the fact that their baby daughter will be grown up one day and supposed to lead her own life.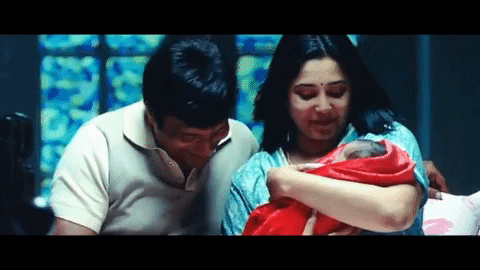 Movie: Abhiyum Naanum
Year: 2013
Artist: Madhu Balakrishnan
Lyricist: Vairamuthu
You should also never miss:
1. Aanandha Yaazhai From Thanga Meenkal
A poor father struggles to meet the need of his daughter and keeps her happy, no matter what.
This is one of the best feel-good emotional songs in Tamil cinema.
The emotions are perfectly put in words with a delightful musical score and won various awards in the Filmfare.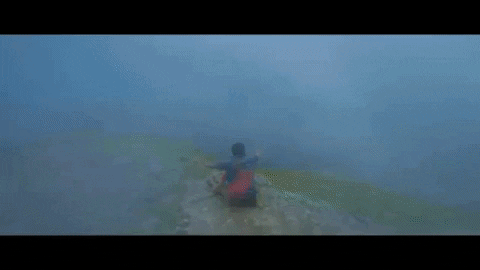 Movie: Thanga Meenkal
Year: 2013
Artist: Sriram Parthasarathy
Lyricist: Na. Muthukumar
Hey, wait! We are not done yet. You should also check the other Father songs!
Comment your thoughts here