You learn to smile from your mother.
You learn to walk from your father.
Meanwhile, You learn to talk from your family. It is not only your parents who would have contributed to your vocalization but also your family. A family is one of the perfect nest for every kid upon which the next generation is nurtured.
The family is one of the most beautiful things in every person Life. Tamil movies have a wide collection of family movies which make you relish the joy for your family.
Similarly, Tamil cinema is also being loaded with beauteous family songs that every movie lover admire.
Here are some of the collection of Family songs in Tamil Movies that will remind you of your lovely family.
Collection of Family songs in Tamil Movies
11. Potri Paadadi Ponne Song from Tamil Movie Thevar Magan
The song is about a proud village chief who welcomes his son who has returned to the village after his education. It praises the father-son duo by the members of the family and the villagers.
Song Lines That Reminds Family
"Enna Solla Mannu Valam..
Ding Dong Ding Dong Ding Dong Do..
Maaththavanga Kannu Padum
Ding Dong Ding Dong Ding Dong Do.."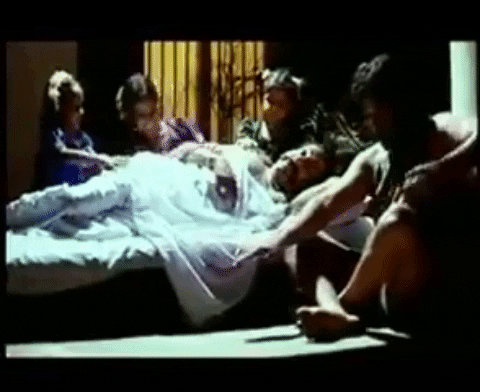 Lyric Source: Lyrics inbox
10. Pachai Kiligal Tholodu Song from Tamil Movie Indian
The song is a refreshing piece of work from the vigilante film that takes us through the life of an ordinary middle-class person in Tamilnadu who has his own duties and responsibilities. This is one of the evergreen family songs of the A.R.Rahman composition.
Song Lines That Reminds Family
"Chinnanchiru Koottukkulle Sorgam Irukku
Ada Chinnach Chinna Anbil Thaane Jeevan Innum Irukku
Pattam Boochi Koottathukku Pattaa Ethukku
Ada Paasam Mattum Pothum Kanne Kaasu Panam Ennathukku"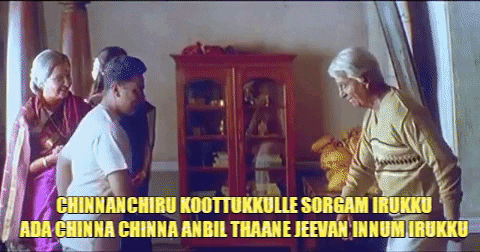 Lyric Source: Paadalvarigal
9. Thatti Thatti Nenjukulle Song from Tamil Movie King
The song is a get together of all members of a family. The long-standing feud between a father and son is settled by the grandson who brings joy to the family by making everyone spend time together.
Song Lines That Reminds Family
"Thatti Thatti Pattampoochi Nejukulle Parakudhu
Yedhanalae Yedhanalae
Vitu Pona Uravugal Veetukule Poothurichi
Adhanalae Adhanale!"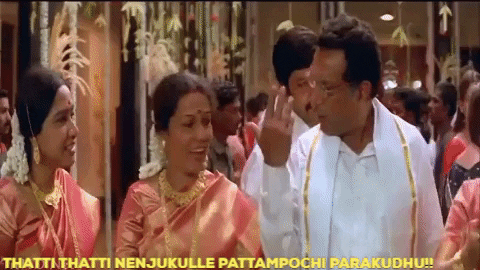 8. Engal Veetil Ella Naalum Karthigai Song from Tamil Movie Vaanathaippola
This is one of the feel-good family songs in Tamil Movies which spreads the fragrance of happiness. The love of an elder brother holds his three brothers together bonded in a great unity.
Song Lines That Reminds Family
"Kili Koottam Pol Engal Kootame
Ithu Aanantha Poonthottam Anbin Aalayam
Engal Veetil Ella Naalum Kaarthigai
Engal Nilavil Endrum Illai Theipirai"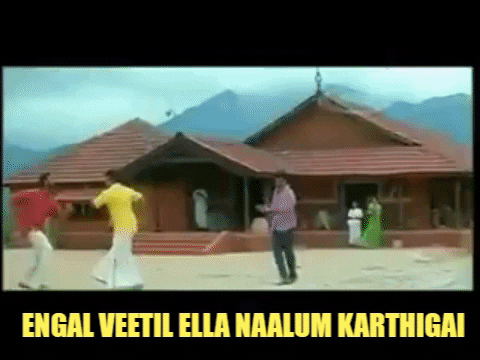 Lyric Source: lyricsspot.blogspot
7. Aayiram Aayiram Aasigalai Song from Tamil Movie Durai
The song is about a man, who puts his past behind him to lead a normal happy life with his wife and son, in a village far away from the chaos of the society. It is a beautiful feeling of nostalgia that the tone of the village brings.
Song Lines That Reminds Family
"Aayiram Aayiram Aasaigalai
Vaangiya Veedu Idhu
Andha Aandavan Vazhnthida Aasaipadum
Aalaya Thottam Idhu"
6. Yaar Enna Sonnalum Song from Tamil Movie Aambala
As the sons try to bring together their father and their siblings from a feud that separated them years ago, This is a yet another feel-good family song that shows the importance of family.
Song Lines That Reminds Family
"Sutrramum Utrramum Yaarumae Indri Vaazhnthidum Veetinil Theivam Illai
Paasangal Naesangal Yaethum Indri Vaazhnthidum Vaazhkaiyo Vaazhkai Illai"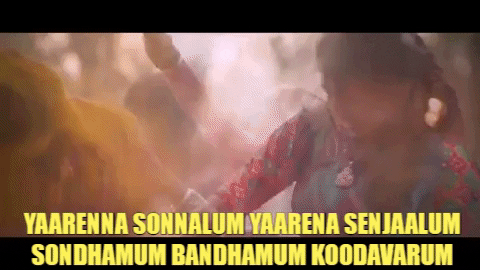 You may also like to read:
5. Ketta Kodukkira Boomi Ithu Song from Tamil Movie SandaiKozhi
A song set in a village, the big family in town gathers around and sings, brimming with pride of their glorious town, where they've lived for decades. The is one of the Tamil family songs that shows the importance of family and tradition.
Song Lines That Reminds Family
"Aaduvom Paaduvom Kondaaduvom
Kooduvom SaeruvOm Kooththaduvom"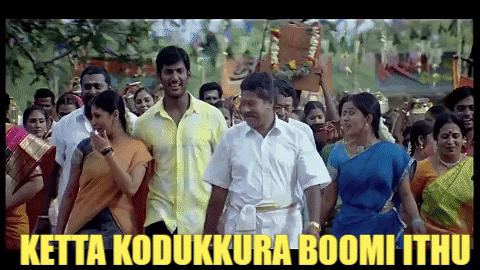 Lyric Source: Tamilsongslyrics
4. Avaravar Vaazhkkaiyil Aayiram Song from Tamil Movie Pandavar Bhoomi
The lines of the song are a look back into the old times when life was simple, and family was together and tight-knit, unlike the present. It gives a nostalgic feeling of the joy the family get-together, especially in village side, where everyone is always surrounded by their family.
Song Lines That Reminds Family
"Nilavugal Serndhu, Bhoomiyil Vaazhndhadhe
Adhu Oru Porkaalam"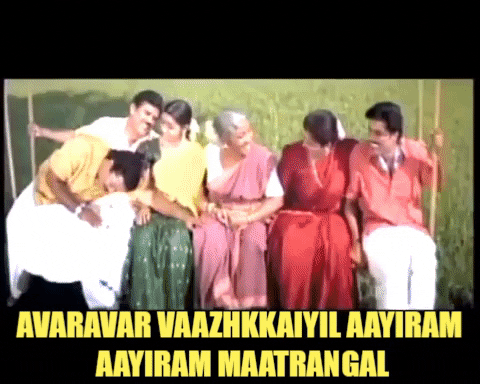 Lyric Source: Musiclounge
3. Athi Athikka Song from Tamil Movie Aathi
The song is an elegant display of a big joint family, where everyone is happy and singing, including the old people, showing a wonderful bond among the siblings, relatives which gives a calm feeling.
Song Lines That Reminds Family
"Kottum Mazhaiyil Kodigalaay Nanaigirom,
Thittum Annai Selaiyil Oligirom
Yettum Kilaiiley Anilgalaay Thirigirom
Thattum Kadhavai Anbinaal Thirakkirom."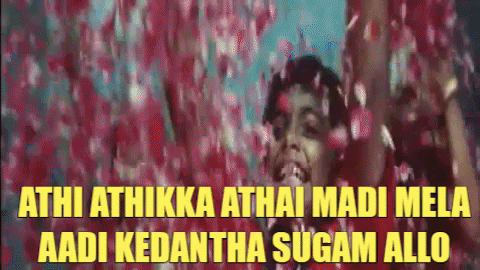 Lyric Source: Juskdin blogspot
Also, read:
2. Aayiram Jennal Veedu Song from Tamil Movie Vel
The long-lost twin, who takes back the place of his brother in a joint family in a village, the song is a pleasant reminder of a village setting where everything is simple, and people are very close to each other. The care and the love is shown by the family is second to none which is written with grace.
Song Lines That Reminds Family
"Paasamaga Pulinga Kooda Pathu Naal Thoongalam
Paasamula Intha Veetil Padikata Maaralam
Aayiram Janal Veedu
Ithu Anbu Vazhyum Koodu"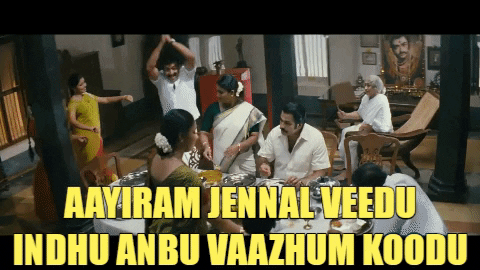 Lyric Source: Paadalvarigal
You may also like:
1. Aasai Aasaiyai Song from Tamil Movie Aanandham
A tale of four brothers who live together and take care of their parents, it is a beautiful family song in Tamil cinema that gives a sense of serenity and calmness every time when one listens to it. The responsible elder brother, who heads the family with siblings who all will do anything for each other, it makes everyone want to live a life as simple as this.
Song Lines That Reminds Family
"Aasai Aasaiyaai Irukirathe Ithupol Vaazhnthidave
Paasa Poo Mazhai Pozhigirathe Ithayangal Nanainthidave"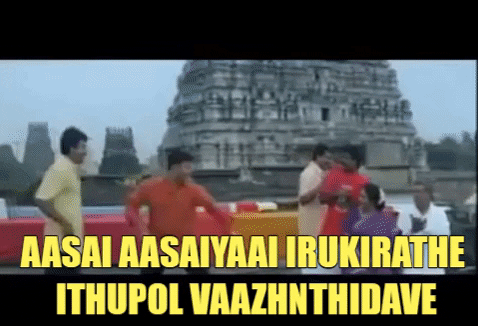 Lyric Source: Paadalvarigal
How do you feel about your Family now?
Comment your favorite family song below and share your joy with the readers.
Disclaimer: The Tamil sentences are not spell checked.
Comment your thoughts here