'Father' – The first hero of every child.
When you step off your home for the first time, the one finger you hold gives you enough confidence to face the world.
When you are puzzled enough by the world's behavior and struck at a point of making a decision, the one sentence that comes out of his mouth makes you mighty enough.
From life to movies, Fathers have always been a precious source of inspiration to kids.
Father centric movies exist across all regions and languages. Well, Tamil cinema has quite good numbers.
Yet, there are few songs when you hear, brings out the love for your loved ones.
Similar to Mother sentiment songs, here are some of the abstract collection of Tamil Father songs in Kollywood.
The Best Collection of Father Songs in Tamil Movies
10. Anbulla Appa Ennappa Song From The Movie Anbulla Appa
A jovial song sung by a young child to her father, showing her affection for the man, who gave everything to her.
It's mild tone and a beautiful voice give a vibrant feeling, lifting the mood.
Lovely Conversational Song Lines Between a Father and a Daughter
"Anbulla Appa, Yennappa?
Ungal Kaadhal Kadhaiyai Kettal Thappa!"
9. Appa Mavane Vaada Father Song From Poda Podi Movie
This is an unconventional song about a young father who welcomes his son into the world by singing how he will sacrifice everything to make sure that his son is happy.
The song is a feel-good one that lightens the mood as well affirming the role of a father in a different manner.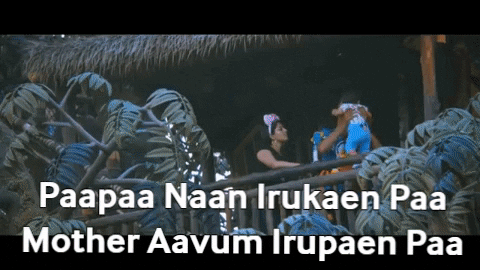 Friendly Song Lines From Father's Voice
"Mother Aavum Irupaen Paa
Eppavume Naanthan Paa
Un Firstu Friendu Paa
Un Bestu Friendu Paa"
8. Aariro Song From Deivathirumagal Movie
It is a touching portrayal of a dad who does not have the maturity to take care of his daughter, but his love wins the hearts of everyone.
The way he takes care of the young child in his own way is beautiful showing that being a father is not about maturity but the unconditional love and care for the child.
Deep Song Lines About Father's Love
"Iru Uyir Ondru Saernthu Ingu Oar Uyir Aaguthey
Karuvarai Illai Endrabothum Sumanthida Thoanuthey
Vizhiyoram Eeram Vanthu Kudai Kaetkuthey."
7. Ore Oru Oorukullae Song From Thavamai Thavamirundhu Movie
The movie explores the relationship between a father and son and how later the son goes through life when he eventually becomes a father.
It is a light-hearted song that resonates with a sense of peace to the listeners with its well-crafted lines.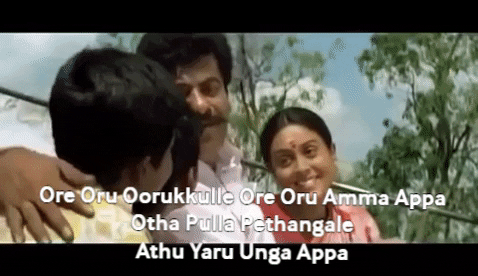 Song Lines That Speak A Father's Thoughts
"Naan Padika Nenachathellam
Nee Padikkanum
Yennudaiya Kavalaiyellam
Neenga Pokkanum
Ungala Pethathe Santhosham"
6. Singam Endraal Song From Asal Movie
This song is about a father praised as the 'lion' or the brave heart, who is the head of the family and takes care of all the trouble in the family.
The movie has a complex storyline with two families and this is a beautiful song that tells about the father in the family.
Song Lines That Expresses a Son's Pride About His Father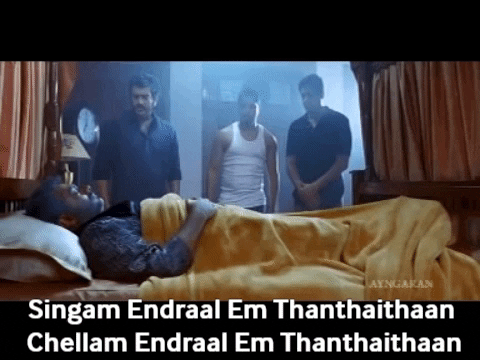 "Singam Yendraal Em Thanthai Thaan
Sellam Yendraal Em Thanthai Thaan"
You may also like:
5. Deivam Enbadhenna Father Song From Thirudam Police Movie
Parents are the ones who make us and give their whole life for us.
So this song compares a father to that of god, as they are the ones who take care of us and think about their children's well being all life.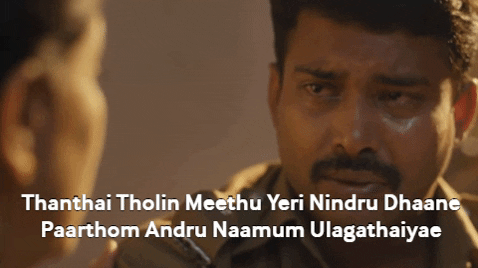 Song Lines about Father's worth
"Deivam Enbadhenna Unmai Naan
Kandaene Thanthai Dhaane
Thanthai Vaarthaiyellam Vethangal
Enbaargal Unmai Dhaane"
4. Dheivam Illai Song From Naan Mahan Alla Movie
This is a sad and emotional song where the father dies, and the son feels and expresses his anger in the form of this song in the background that shows a child's anger towards the almighty for taking away their father, who means the world to them.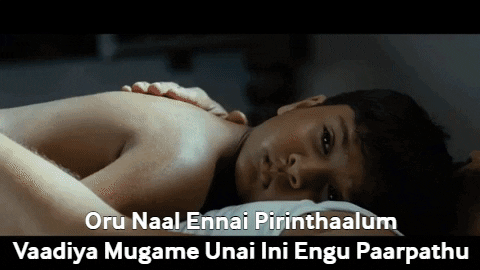 Song Lines That Expresses Son's Sorrow After Father's demise
"Uyir Vaazhvathe Enakkaaga Endru Nee
Dhinam Pesuvaai Athu Enna Aanathu
Oh.. Thalai Mel Sumai Irunthaalum
Punnagai Tharume Ithazh Athu Engu Ponathu"
You may also like:
3. Anbulla Appa Song From Sigaram Thodu Movie
The movie is about a son who holds his ambition and instead becomes a policeman for the wish of his father. It shows the love children have for their father and also features this amazing song about a father.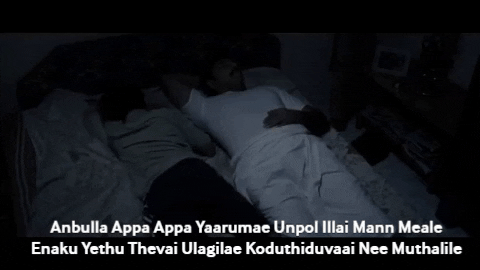 Song Lines about Father
"Anbulla Appa Appa Yaarumae Unpol Illai Mann Mele
Anbulla Appa Appa Thaayayum Unnil Kandaen Anbaale
Enaku Ethu Thevai Ulagilae Koduthiduvaai Nee Muthalile
Vaendaamal Tharum Dheivam Nee Dhaane Unmaiyille"
2. Daddy Daddy Oh My Daddy Song From Mouna Geethangal Movie
This is one of the energetic father songs in Tamil cinema featuring the veteran director-actor K. Bhagyaraj as a dad.
The movie was the biggest blockbuster of 1981 and also later remade as 'Chanchattam' in Malayalam after 10 years.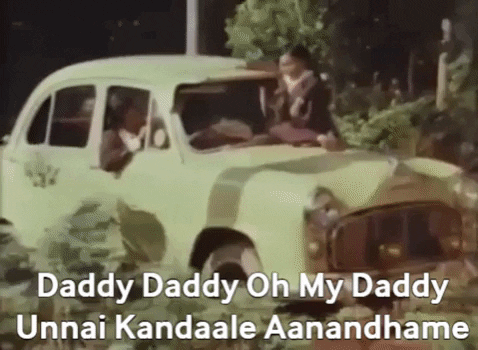 Song Lines on Son's joy about Father
"Daddy Daddy Oh My Daddy
Unnai Kandaale Aanandhame"
Also, don't miss to read,
1. Dheivangal Ellaam Song From Kedi Billa Killadi Ranga Movie
A beautiful song about the father-son relationship, the son feels about his father when his father dies.
It is filled with emotions and makes the viewers feel sentimental about all the sacrifices that a father makes for his children.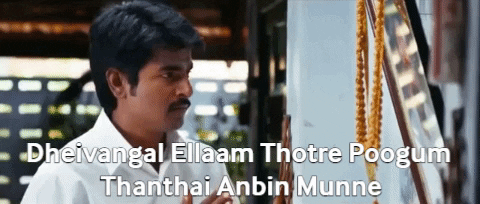 Song Lines That Conveys The Superlative Love of The Father
"Dheivangal Ellaam Thotre Poogum Thanthai Anbin Munne
Thallatu Paadum Thaain Anbum Thanthai Anbin Pinne
Thagapanin Kannirai Kandavanum Illai
Thanthai Sol Mitka Manthiram Illai"
Go on! Get back to your father and say 'Hello' now! Comment your thoughts below.
Comment your thoughts here